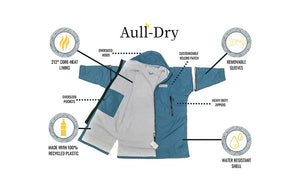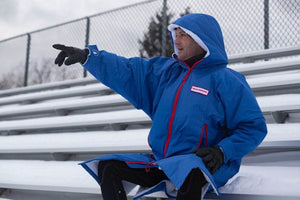 Product image 1

Product image 2
Product image 3

Product image 4
Product image 5

Product image 6

"Buffalo Country" Stadium Jacket
Finally! A jacket as extreme as the Buffalo football fans themselves - no matter the stadium, no matter the weather - this limited edition Buffalo Aull-Dry stadium jacket has got your back! 
With a waterproof shell, specially designed 212 core-heat fleece lining, and a removable sleeve (complete with a "Bills Country" velcropatch) - you are sure to be the warmest and biggest fan in the stadium! 
PRODUCT INFO

Exterior: 

Constructed with an Aull-Weather Waterproof Shell 
Designed to be lightweight, durable, and waterproof the specially designed Aull-weather shell keeps heat in and moisture out. 

Interior:

212° Core-Heat Lining - 
Made with a 100% recycled-bottle fleece blend, the Stormies 212° core-heat lining was designed to keep your core body temperature where it should be, no matter the climate of your next adventure.

Fit:

With an oversized fit in the body and arms, this outdoor changing coat allows for easy and private removal of wetsuits, bathingsuits, clothing, snowgear, and more!

RETURN & REFUND POLICY

Returns are on a case to case basis, please email us about the return of your product.